17 May, 2012
Scientific Day on Aggrastat and Urokinase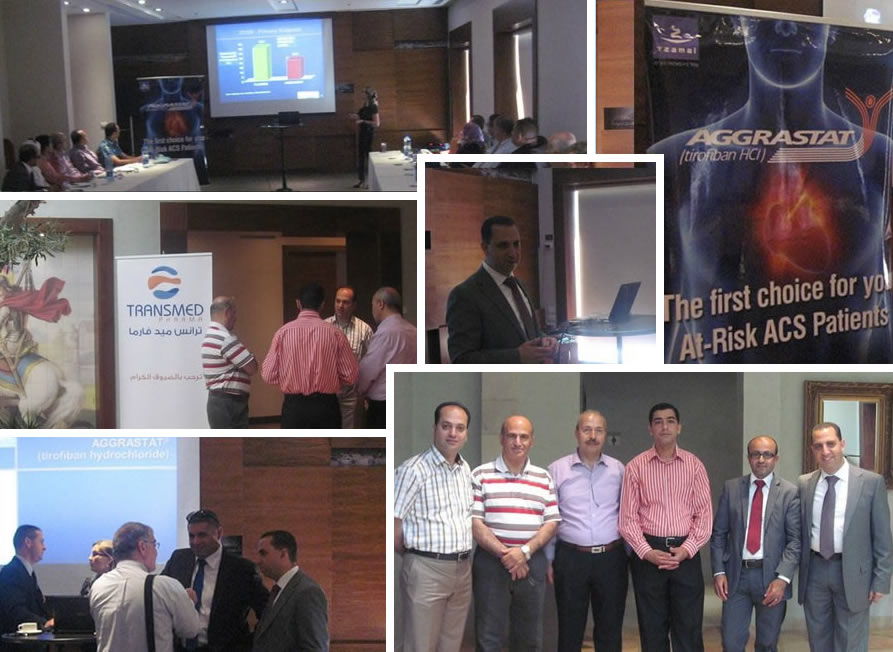 East Jerusalem, May 17, 2012 – Transmed Pharma has just concluded a Scientific Day of lectures and discussions on two of its newly launched pharmaceutical products in the Palestinian market, namely Aggrastat (Tirofiban Hydrochloride) and Urokinase (Fibrinolytic). The meeting took place in East Jerusalem, and was attended by a number of Palestinian doctors from different cities in the West Bank and Gaza Strip.
About Aggrastat® Aggrastat® is indicated to reduce the rate of thrombotic cardiovascular events (combined endpoint of death, myocardial infarction, or refractory ischemia/repeat cardiac procedure) in patients with non-ST elevation acute coronary syndrome (NSTE-ACS). Aggrastat® achieves >90% platelet inhibition within 10 minutes. Aggrastat® HDB is Class I recommended in both   and AHA/ACC NSTE-ACS Guidelines and ACCF/AHA/SCAI Guidelines for PCI.
Please click here to learn more.
About Urokinase Medac Urokinase is a naturally occurring enzyme extracted from human urine. Urokinase Medac is an antithrombotic agent and is indicated for the treatment of acute occlusions of blood vessels caused by blood clots such as peripheral vascular occlusion, i.e. blood clots blocking the blood vessel system of the extremities, and severe pulmonary embolism, i.e. blood clots in lungs. In addition, urokinase can be used to dissolve blood clots that develop in shunts of dialysis patients.
Please click here for more information.
Next