16 November, 2018
Transmed Pharma Launches of BRINAVESS Antiarrhythmic Drug in Palestine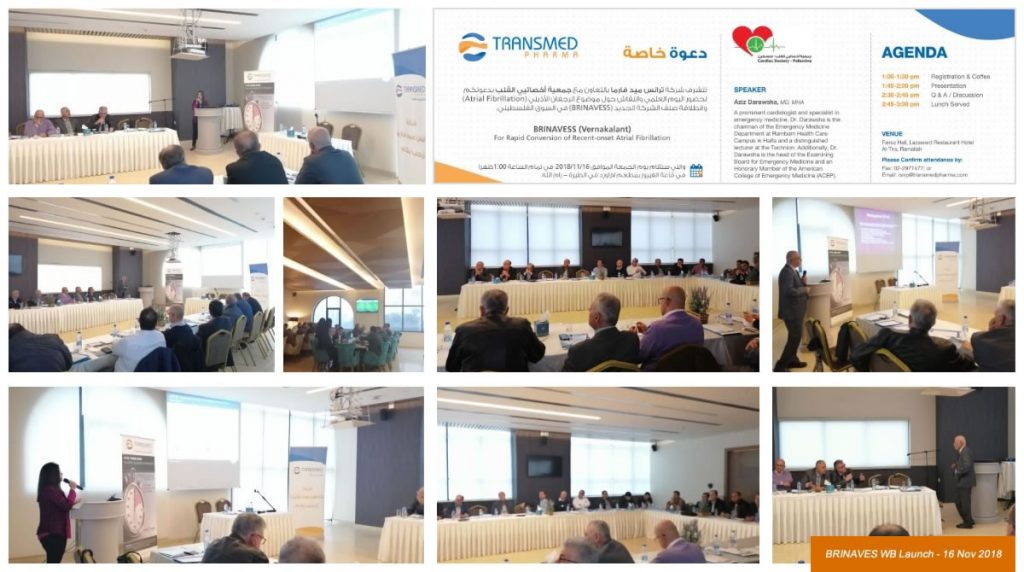 Ramallah, November 16, 2018 – Transmed Pharma today announced that it received marketing authorization from the Palestinian Health Authorities to sell and distribute BRINAVESS® (vernakalant hydrochloride, IV) and has subsequently launched the product in Palestine. BRINAVESS® an antiarrhythmic drug that acts preferentially in the atria by prolonging atrial refractoriness and slowing impulse conduction in a rate-dependent fashion. The drug is indicated for the rapid conversion of recent onset Atrial Fibrillation (AF) to sinus rhythm for both non-surgery patients with AF less than 7 days and post-cardiac surgery patients with duration of AF less than 3 days. BRINAVESS® is not recommended for conversion of atrial flutter to sinus rhythm.
The market launch was accompanied by a scientific day held in Ramallah and was attended by doctors and specialists in the fields of emergency medicine and cardiology. The event included a lecture and discussion lead by Dr. Aziz Darawsha, Chairman of the Emergency Medicine Department at the Rambam Health Care Campus in Haifa.
About Correvio Pharma Corp. Correvio Pharma Corp. is a specialty pharmaceutical company focused on providing innovative, high-quality brands that meet the needs of acute care physicians and patients. With a commercial presence and distribution network covering over 60 countries worldwide, Correvio develops, acquires and commercializes brands for the in-hospital, acute care market segment. The Company has two marketed, in-hospital, cardiology products, Brinavess® (vernakalant IV) for the rapid conversion of recent onset atrial fibrillation to sinus rhythm; Aggrastat® (tirofiban hydrochloride) for the reduction of thrombotic cardiovascular events in patients with acute coronary syndrome. Correvio's pipeline of product candidates includes Trevyent®, a drug device combination that is designed to deliver treprostinil, the world's leading treatment for pulmonary arterial hypertension.
Please click here for more information.
Back
Next